Services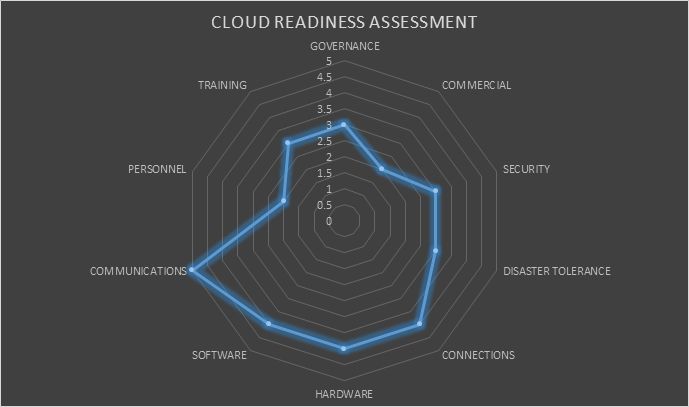 Maturity Assessment Tool
We look to provide a Business Information Technology Maturity Appraisal to assess your company for Cloud Readiness. As part of this tool, we will assess your IT Governance, Commercial Arrangements, IT Security, Disaster Tolerance & Business Continuity, System Connections, Hardware, Software, Communications, Personnel and Training. Using this we can provide you with a cloud readiness assessment.
Cloud Planning Service
We concentrate on the technical issues surrounding the transfer of business capability to the cloud so that our customers can focus on people, process improvement and exploitation of more agile ways of working.
We discuss the benefits and risks associated with cloud adoption and explain the options available.
We conduct a detailed examination of all existing software applications or IT infrastructure that may affect the availability or security of cloud services. We agree business objectives and priorities for cloud migration. Finally we design a detailed plan for cloud migration that not only addresses technical and commercial constraints, but also include softer project elements such as communication and cultural factors.
Cloud Migration
Our migration service will transfer customer data and users onto a new cloud environment with the minimum of disruption to the business. We can include data cleansing, simplification and remapping of business processes and hands-on training as part of your cloud migration if required.
On-demand Software Services
Many small and medium-sized companies have similar business needs and these can range from managing customers or employees to purchasing goods and recording expenses.
We provide a range of internet-based software modules. Our customers can access their data securely from any location with an internet connection.
Our pay-as-you-go software is less-expensive and more convenient than traditional software procurement since customers pay only for the services they use and they can stop using the software at any time. We provide an on-line catalogue and offer free trials.
Customised Software as a Service
Larger organisations or organisations with complex or unusual requirements may find that they require extensions to the capability provided within our core software modules and we are pleased to offer this service.
By combining our existing software with new bespoke components we can provide an end-to-end application that integrates with a company's preferred enterprise architecture and any existing 3rd party products.
All customisations are based upon best practice and open standards.
Application Hosting
We can provide and configure virtual servers on Azure which host existing software for our customers. We can allow customers to access almost any software application from locations with an internet connection using the web-browser.
Hybrid Solutions
Customers do not need to transfer all their business onto the cloud in one step. Often it is more sensible to move smaller less-critical elements as a pilot project and then capability can be transferred onto the cloud as confidence increases. Throughout this period, enterprise users still need to feel that they are operating on a single joined up system and the Azure capabilities for delivering and managing hybrid solutions make this a straightforward and robust approach to cloud migration. Some applications remain hosted on premises, some migrate to cloud and the entire network can be managed on-premises as though the cloud is simply an extension of the existing architecture.
Data Services
Using our services mean that your data can be used in several ways. Master Data Management can allow your data to be used in several ways, using our data enrichment and cleansing programs. Using our data analysis and data mining tools we can make the most of your data, providing Data Warehousing and Business Intelligence.
Information Security
We can provide Audit and vulnerability assessments to identify security risks, attack paths and suggest countermeasures, as well as recommend appropriate risk mitigation.